Let me start this post off by admitting that I've only been an "official" knitter for about 8 months. I started learning to knit about 10ish years ago when I was learning to crochet. I caught on to crochet very quickly (even with being a lefty). But knitting was a whole different cat to skin! OMGosh! I found it so difficult! 
For those who don't know. There are only two sticthes in knittting versus about 8,000ish (just guestimating) crochet stitches and I still found knitting much more difficult. The knit stitch was not difficult to learn for me but that purl stitch  gave me the impression that I would never learn to knit "officially". 
Then last summer, I found out that some women meet in our local library meet once a week just to knit. I invaded their sacred meeting and soon came to realize that I'd been knitting all wrong for a lefty. A fellow lefty taught me how to knit contentintal style and I'm forever grateful to her for it. Because I now love to knit! 
I wouldn't say that I prefer it over crochet, because I can crochet with my eyes closed and knitting is much more intentional. But I do prefer the knit look over the crochet look for some projects. Let's just say that they both have their place. And I'm so grateful to know how to do both. 
Recently I made my very first knit garment. Up til now I'd been making hats, scarves and blankets, which I love (especially if it's cable knit). But I knew that I wanted to get into something a bit more complex. Then I came across this pattern and the rest was history.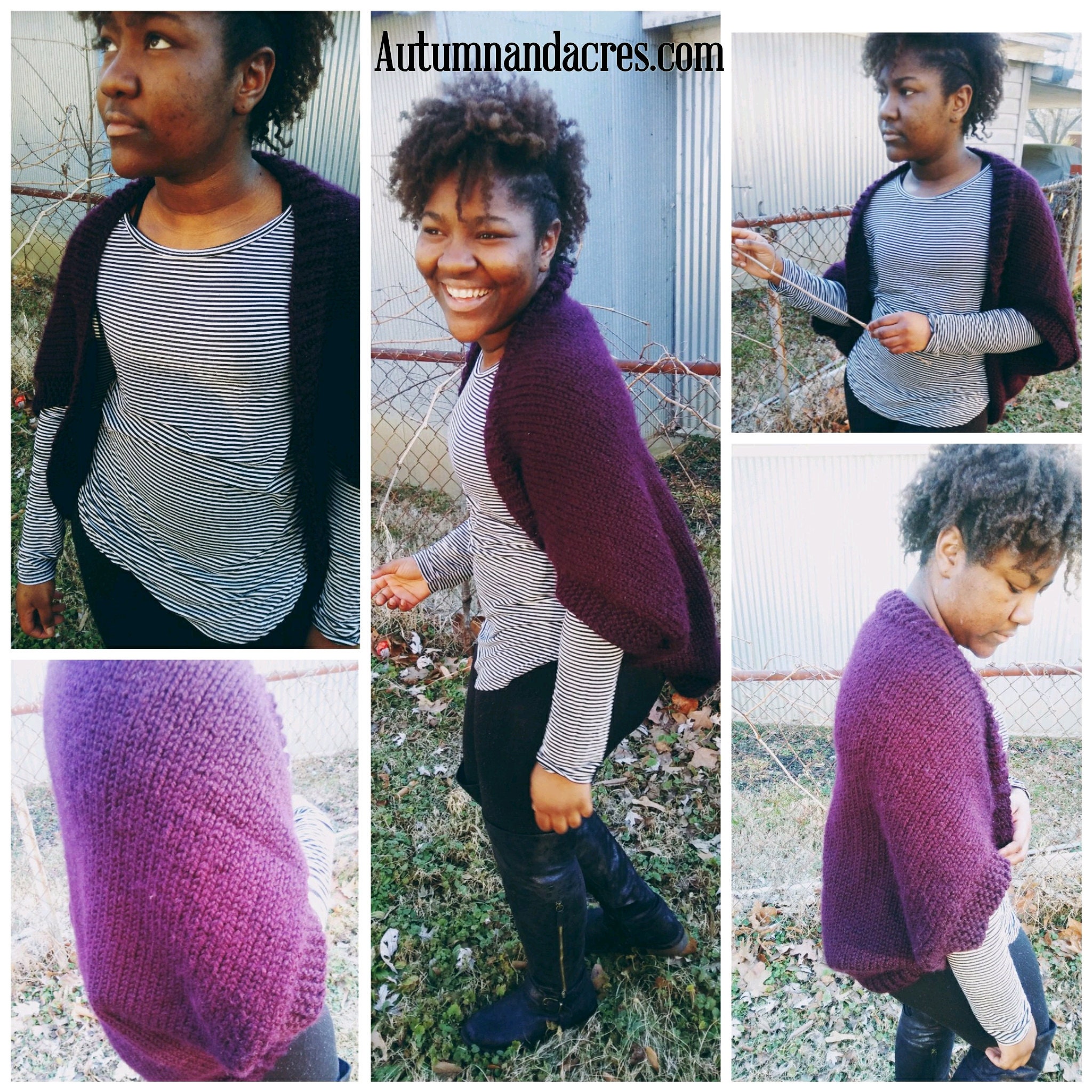 I took to this pattern, mostly because it's so cozy! And I just love cozy! So off I went to get started. I was a little intimidated when I got started until I realized that it was knit flat. Which just means that it's one piece (much like a blanket) and then sewn on the side to create the right shape. 
It was the easiest garment ever! And the pattern is written so well! Jennifer at Bromefields.com did such an awesome job of making this pattern easy to understand. And she has tons of patterns that are just as easy and just as cute! I love it. Her website is the perfect resource for the beginner knitter or anyone who likes things that are simple yet cute! I am beyond grateful for her and all her talent to easily explain things. 
If you want to learn to knit or if you're a beginner, experienced or seasoned knitter head on over to her site and subscribe! She even has lots of free patterns! 
And no I am not a paid sponser. Just an enthusiastic knitter who loves all things cozy, cute and simple! 
Have a great day,
Jess